Sarah Houghton-Jan (librarianinblabk) e Aaron Schmidt  (walkingpaper.org)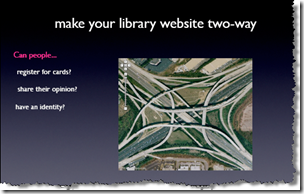 Onde é que a sua biblioteca devia ter presença na interent e nao tem?
Gritos da audiência: Flickr, Second Life, mySpace
Atrair gente às nooas presenças web
temos de ir ter com eles… sem ficar à espera que eles por acaso nos encontrem
nao estamos a vetder banha da cobra!!!
podem os seus utilizadores ter uma conversa de dois sentidos com o seu website?
online todos os fregueses sao seus fregueses
tudo o que se vai aqui falar é gratis
searhc engine findability is a marketing tool, pesquise o seu serviços no googlwe estlá? porque não? adWroks($) e SEO($)
Lib Directory Links
Blog search engines
masternewmedia.org
feedsubmitter
sweet Wikipedia goodness
wikimapia
comunity information websites ( sites sobre localidades e sobr as nossas comunidades) mesmo para universitárias.
intrevençao em blogs de locais ou indigenas ou sobre o local
blogdigger
metroblogging i
feedmap
assegure que abiblioteca está lionkada desde o site da escol, do ,liceu, da camera
investigue quem link para si link:bm-espinho.pt
social review websites
yelp citysearch judy's book insiderpages local2me e  o k se diz lá sobre si
social netwrking sites
create a profile myspace, facebook, flickr, ning (oh my god, the library is tech savy, they have a photo site!!!) Ver a libsuccess wiki

Concurso local para desenhar  o avatar da biblioteca!!!
Registe-se nas lista de sitios de WiFi livre
Blogeo Search engines
Second Life infoisland.org/drupal e secondlifelibrary,blogspot.com
IM e SMS (ver o cliente de SMS da vodafone)
AV Content youtube, etc e podzinguer (audio to txt)
find mentions of your library everywhere
chitter on twitter
se os utilizadores não estao a usar isto… sejamos os tech leaders  da comunidade e comecemos nós.